Technical consulting for tube industry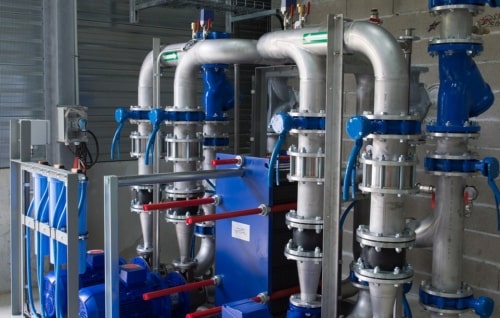 Tube fabrication industry
We are offering our consulting and information services for all industries and producers who want to start the fabrication of tubes or are already at the market but looking forward to enlarge the production and performance based on technological processes and machinery used.
We believe that our long years experience, impressive knowledge of market and some relations with core machine manufacturers allow us to provide the quality service and finally save time, money and decrease the risks of mistakes in decisions for our customers.
Moreover we are able not to look forward for one fabrication process but make expertise for complete material flow - from raw part to complete made tubing, from cutting to the final tube control together with the integration of factory control processes, MES systems, Industry 4.0, design and developments, onsite inspections, workflows etc.
One of our big keys - we are completely independent with our work and we are not dealers of one machinery brand - in this case we are able to follow the customer with his wishes and decisions with any manufacturer in European Union. Moreover Italian manufacturing industry is one of the leading world sector for tube processing machines and equipment so we can establish relations for our customers for the best worldwide and most professional machines.

On-site technical audit (verification of situation, processes, weak places, discussion of requirements)

Formalization of requirements and technical tasks for equipment and processes

Markets study, analyzing of operations, contact with manufacturers

Economic studies

Tooling supplies, tooling management

Improvements based on Kaizen and lean production

Workflow, part-flow based on electronic systems, barcodes, ID codes etc.

Much much more and in reality - we can provide the support on each step from raw part till the sending the part for packing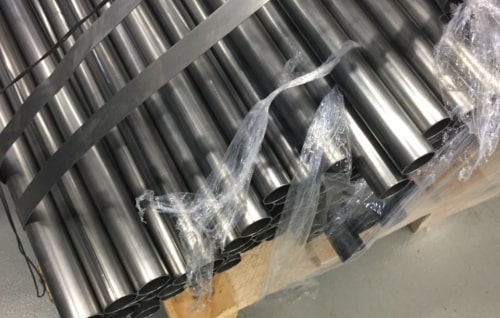 Cut to length
We doubt that we can assist for production to purchase and equip the factory with simple cut-off disk machine or bandsaw. But we are talking about high professional, fast and fully automatic cut to length machines to cut tubes to size in batches with most possible speed we can assist with the study of suitable equipment. For sure for big production stand-alone machine could be the slowdown of production and the customer is interested to insert the machine in constant production line, probably with automatic feeders for other production machinery. Together with cutting there is small but very important process of edges deburring to send the clean tube for future fabrication.
There some production processes require tube cutting after forming and bending to remove the oversize length.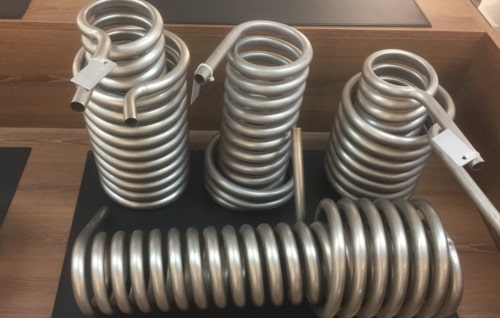 Tube bending
We have a big experience with various applications for tube bending including all main key sectors and industries. We can make consulting about main technology, suitable machine, parts projection and design, unification and optimization to reduce different radiuses, tooling project and study of various suitable tube and pipe bending machines from stand-alone simple machines till complete 24/7 production lines with tube bending equipment integration.
In general tube bending mainly one of the most important processes and in a lot of applications as high pressure tube fluid lines it is also required very high standard for tube deformation during the bending which could be obtained with precision machinery and tooling. Tube bending is not limited just the tubes but could be various shapes as rectangle tubing, different profiles solid or hollow and a lot of different products from tractor cabin automatic 1-load preparation till bending tubes for shipbuilding and energy sector with the big diameters.
Thanks to our experience of supplies of tube bending tools we have solid professional background for complete tube bending technology.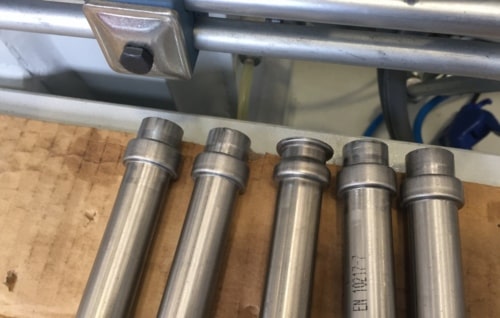 Tube end-forming
Tube end-forming is the second main deformation process widely used for tubes fabrication with the use of special end-forming machines to perform the necessary shapes. The shapes are used for connection and installation of additional elements such as nippels, nuts, caps, fixation blocks etc. Tube end-forming usually includes such operations as flaring, tube expanding, tube reduction, beading, forming of rings, rolling etc. Usually for operations used different machines from simple hydraulic end-forming till complex end-forming up to 6 stations with possibility also to install bended tubes. Machines could be installed also in production lines for automatization of end-forming application together with bending or other operations.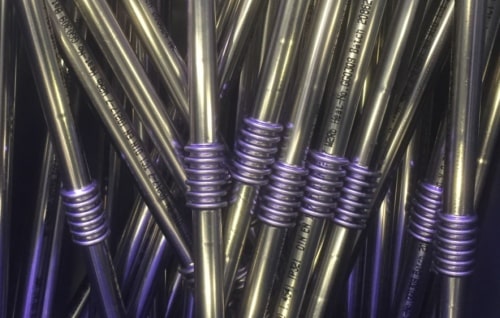 Tube shape forming
For some applications, mainly in automobile and aerospace industries it is necessary to performing the forming of tube to the desired shape. It is also used for making the compensators. Mainly it is used hydroforming technology with the use of forming presses with the feed of active fluid under the high pressure with closing of both tube sides and requested also the special tooling with the groove of the desired shape. Besides of other shapes hydroforming is main technology to produce T-bends without the welding.
In tube forming production it is used also stamping, for example 2 sides of tube with the future welding. It could be used, for example, to make the small tube radiuses with additional forming on the ends for examply. But anyway for applications, where the welding seams are not allowed hydroforming is only one main technology to get the clean shape.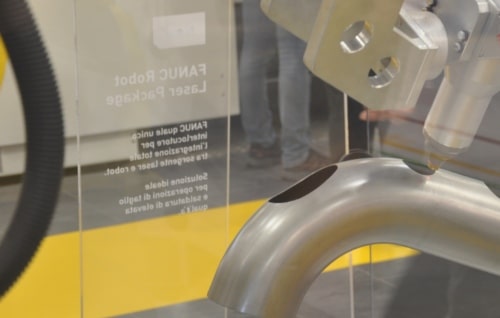 Tube cutting and welding
Tube cutting is widely used process in industry, could be used punching of holes, cutting of holes (usually with the use of plasma or laser), cutting of shapes, including straight tubes as well as bended with the use of various machine tools or robots. Welding could be orbital welding around the tube axis, longitudinal welding, welding of additional auxiliary elements, formings and flanges. Together with standard MIG and TIG welding could be used more innovative processes such as friction welding or welding in special chamber, typical for special materials as titanium. If requested standard universal assembly tables or fixtures or even special jigs, could be developed and supplied as well.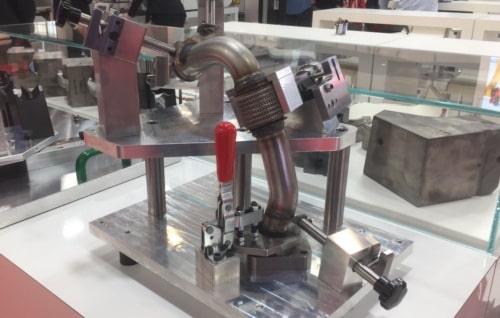 Tube final piece control
There are various technologies for final piece control including special jigs to control the geometry, optical measurement control of bended shape with verification of main sizes, touch and optical control of end-forming, control of attachment to flanges. Addionally controlled deformed areas of tube to verify the ovality, surface quality, wall thickness on deformation etc.
Together with geometry control for some applications such as tube- and pipelines and specially for high pressure lines tubes are tested for leakage tests, pressure tests to check the limits of damages with the use of special test benches and other laboratory equipment. Control could be done on several pieces in batch or complete 100% control of all manufactured products.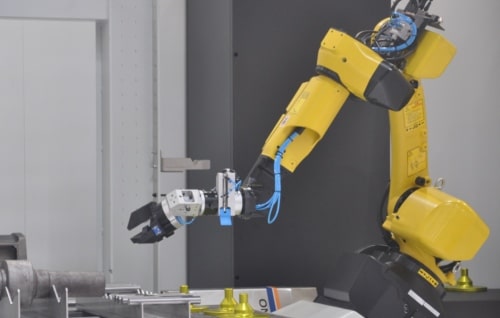 Automation and robotics
To get the high speed effective production with repetitive details different types of automation are used in tube fabrication industry. It should be possible to install additional simple grippers in tube bending machine to load and unload the tubes, side loaders feed the tubes and conveyour belts for removal of bended pieces from working area.
There are development of different systems of detection of welding seam, nuts feeders, transfer systems and additional software to control the flow. Robots could be easily integrated for all handling operations, moreover for correct positioning of parts for forming, control, assembly etc. or mainly used with laser cutting or welding equipment. Complete production lines used on automotive factories, production of hydraulic tube components, fittings, cooling and heating industry.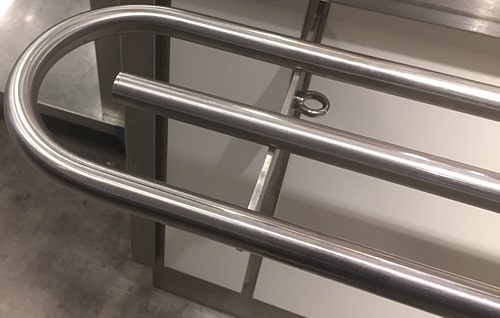 Tube grinding and polishing
Tube grinding and polishing is one of additional processes we have good experience in and it is used for transport industry (rails, barriers), metal and street furniture, architectural and construction industry, production of faucets etc. In general not only production factories but also tube mills requested the tube grinding to perform the necessary surfaces for supplies of tubes in required condition. For tube processing factories grinding and polishing is necessary for quality of end-product.
Various machines from simple centerless belt units till complete lines are used depends of the roughness of initial surface and requirements of final result. Could be proceed also bended tubes with the use of machines (but with radius limitations) or automatic systems, for example robotic grinding. Moreover processing of surface could eliminate the defects of surface during the bending and other operations made before.