Tube bending tools sets and separate tools
We are ready to supply from separate tools according to the customer specification till the complete set of tools (bending die, clamps, guides, mandrel, wiper die, collet etc.) for the specified diameter and the radius of tube.
We have a possibility to offer the tube bending tooling from simple set for easy-bended tubes up to complicated solutions with the several levels of bending die (multi-stack), one- or multi-ball mandrels, special surfaces for short straight part and tight clamping, special profiled tooling and hydroforming shapes, tools for bending of profiles, square and rectangular tubes, roller tools for push bending etc.
Tooling is made with proper heating treatment for the best hardness of material and maximization of lifetime for tool use.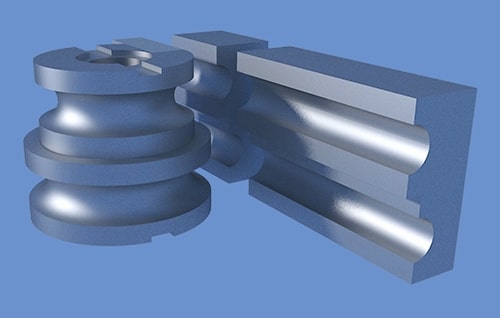 Multi-stack tube bending tools
If your tube bending machine supports the installation of tube bending tools on several levels we can offer not the one level tools but Multi-stack (Multi-level) for all necessary radiuses and shapes. Usually solid Multi-stack tools are used as the way to save some money against necessity to order separate tools. Moreover the installation of Multi-stack tools is more quick and effective if you have the repeated production. If necessary we can offer the production of standard draw bending tools as well as push bending tools.
Multi-stacked tools could be made as separate components of tools with possibility to install on different levels (with special fixation plate - more universal and convenient construction) as well as solid multi-level pieces with impossibility to change the levels. Usually solid body is necessary to use for the possibility to perform normal forces on top to prevent non-bending or breakage.
Usually the construction of Multi-stack tools and any installations of the tools on the machine on different levels are made to make as pyramid with bigger radiuses on lower levels.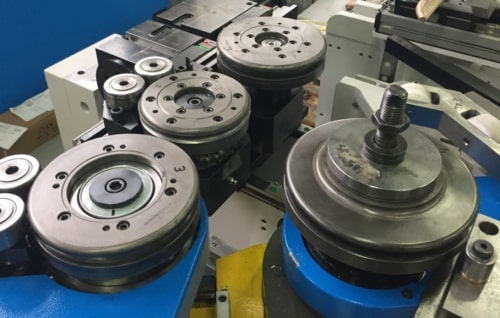 Push bending tools
Push bending (or thrust bending) is a special process for tube bending machine to push the tube with the controlled force through the rollers specially positioned to form the radius. Mainly this process is widely used for making of big radiuses (5 diameters of tube and bigger) and standard for application like forming in way of spring, coil, parts of furniture, for example chairs etc. Moreover push bending tools are do not required for one single diameter so if your machibe supports push bending technology you can look forward to use it for more purposes. We are offering complete solutions for tools for push bending as separate sets as well as composition with standard draw bending tooling and push bending on different levels of tube positioning. Also, interchangeable rollers could be ordered as well.